So, I've never sewn anything before. In fact, October 31st was the first time I've ever threaded a needle so I went into this project without a clue as to what I was doing. After watching a few tutorials on how to prepare my sewing area, which is basically my computer desk, I set to work on sewing a plush Hobbes doll.
Jane
is a big fan of Calvin & Hobbes, and she's been quiet good to me through some difficult times this year, so I wanted to make her something unique for Christmas. Of course, I'm not the first person to make a plush Hobbes doll, other people have done it with greater success than me (see
here
, and
here
). You can't buy them because Bill Watterson -- the creator of Calvin & Hobbes -- doesn't licence his products for retail, it's fine to make them for personal amusement, but you can't sell them. And I actually agree with that, it does somewhat cheapen the image when it's plastered all over everything. I'm not really good at buying gifts for people anyway -- some people are, Jane for instance is great at it -- so I tend to favor making things.
So, here it is. Apologies that I forgot to take photos in steps, I worked on it whenever I got time and it slipped my mind to take photos of the parts.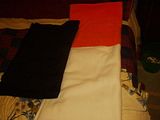 The materials before I cut them apart.
I had to make the pattern myself, and obviously if I've never sewn before, I've never made a sewing pattern before. Honestly I was completely lost at this point, so much so that I was using a plush Easter Bunny as my pin cushion.
I later found out that paper scissors and fabric scissors are
not
the same thing!
So, after about 20 total hours of work, and some very sore finger-tips later, I finished the doll. It's 10 inches (a 0.25 meters) tall. In total it's sixty-one pieces. I didn't quite get all the stripes the perfect distance so I had to do some additions to some, the striping was mind-numbingly boring.
The finished doll on my bed.
He's not that tiny, I have gigantic hands. And yes, skinny arms.
I wanted to make his head fatter, but the thread didn't want me to.
View of the face and front torso.
The tail is a bit loose, and that's really my only worry with it's stability.
I bought the thread and stuffing locally, but the fleece came from a website called
Fleece Queen
. The price was pretty low, and I'm not exactly made of money, and they got it to me quickly and with no hassle so if you ever find yourself buying fleece online, I recommend them. And no, they didn't pay me to say that, if only they did!
Overall, I'm pretty happy with how he turned out. Jane seems very happy with him, and that's really all that matters. He did survive being shipped 1,100 miles from Charlotte, North Carolina to North Texas on Thanksgiving week, so I'm thankful for that. My friends say it came out well, but then again, they're my friends and they might just be being nice to me.
Though if you want something much cooler, you can buy one of Jane's duct tape wallets, she works hard on them and they've all come out really well.
This is mine
. You can see the rest of them at
her Flickr page
. Go to her site:
www.janeds.tv
to find out how to order one. I guess that's sort of a plug, even though I don't work for her at the moment. (I used to be her PA, for those unaware). They are nice though, Jane's a creative girl.
Okay. That's that. Maybe I'll make more crafty stuff in the future, people are always harping me to do artistic things (and try to qualify for
Jeopardy!
, but that's a different story), so maybe I will.